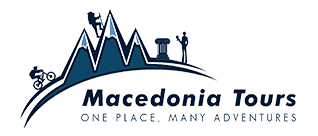 10 DAY Grand National Culture & History Tour
Experience the best natural and cultural features of Macedonia through an unforgettable adventure.
HIGHLIGHT
Demir Kapija - Capital of Roman Macedonia, Stobi, Wine Tour in Popova Kula
Bitola - Ancient Heraclea, City Tour & Modern Culture
Skopje - City tour, Museums, Millennium Cross, Matka
Prilep - Monestaries Varos & Treskavec, City Tour, Wine Tour in Kings Winery
Ohrid - City Tour, Bay of Bones, St Naum, Boat Ride
Mavrovo - Visiting Vevchani, St Jovan Bigorski and Rajcica Monasteries
Macedonian Cuisine, Wine, Spirits, Music, Culture, Natural Beauty & History
Krusevo - Attending Ilinden at Mechkin Kamen and Makedonium, city tour
Galicnik - Jewl of Macedonian Ethnography
1

Day 1: Skopje The tour starts in Skopje for a city tour and exploration of the Archeological Museum, Museum for Macedonian Struggle, Museum of Lazar Licenoski, Mother Teresa House. Continuation to the Millennium Cross and exploration of Matka. Overnight stay in Skopje.

NOVICE


Republic of Macedonia

10 Days, 10 Nights

Jul - Sep

1 - 10 persons
Departure Point:
Tour starts and concludes in Skopje.
The tour includes:
Overnight Accommodation 2.5/3 star , Professional tour guide & historian, large breakfast daily, all transfers & entries, 24/7 support
Necessary equipment:
Personal belongings for 10 days, sun screen.
Extra:
Please allow an extra 5-10 euros per day for lunch and dinner: food is great quality and very cheap.
Tour Guides:
Licenced tour guide & historian
€ 1129
MKD 69000
(minimum 1 people)